Contact Our Kensington, San Diego Family and Emergency Dentistry Professionals
Dr. Steven J. Byers and our entire staff take great pride in providing the very latest cosmetic and family dentistry procedures, including oral surgery for dental implants. At our Kensington, San Diego dental practice serving Normal Heights, North Park, and surrounding areas, our cosmetic dentist and staff provide a truly unique dental care experience. We are committed to providing exceptional care in an exceptional environment, and will do everything in our power to make your stay with us a pleasant one.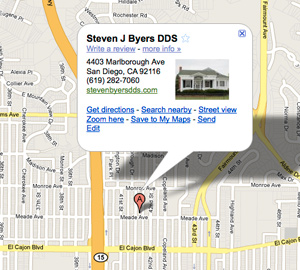 Our cosmetic and family dentistry professionals in Kensington, San Diego and serving Normal Heights, North Park, and all of San Diego County, will be happy to speak with you about your dental care. To speak with our staff, contact the practice of Dr. Steven J. Byers today.
Our Location:
Steven J Byers DDS
4403 Marlborough Ave
San Diego CA 92116
Call Us (619) 282-7060
Visit us on Google Local
Read reviews on Yelp

Contact Us Today!